Teaching in the Age of AI: Embracing Innovation or Guarding Authenticity?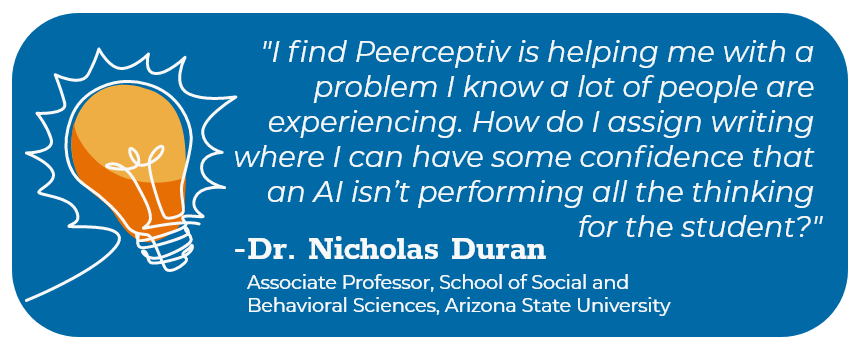 In the rapidly evolving landscape of education, the capabilities of Artificial Intelligence (AI) have become a focal point of discussion. While some educators champion the incorporation of AI into teaching and assessment as a means to enhance learning, others voice concerns over potential cheating and a loss of authentic learning. Whether instructors are planning to have students work on AI prompting in class, or considering alternatives to writing assessments, peer assessment can be a complement to either by encouraging a process-based approach to education. 
Peer assessment, when effectively employed, serves as a powerful tool to ensure that students cultivate analytical thinking, critical evaluation, and communication skills, even if they submit AI-generated content. When students are tasked with assessing their peers' work, AI-generated or not, they identify strengths, weaknesses, and nuances honing analytical thinking skills. Regardless of assignment content, students practice giving and receiving constructive, specific feedback, which prepares them for future academic and career success. Read this case study to see how instructors are already leveraging peer assessment to ensure critical thinking.
As AI begins to reshape the workforce, some educators are encouraging students to master the responsible use of AI. When students review AI-generated content, they learn to recognize AI-generated content peculiarities, question assumptions, and evaluate evidence. Assessing the quality, relevance, and accuracy of the material, nurtures students' ability to discern reliable information from erroneous or biased data—an essential skill in the age of information overload. Peer assessment can be leveraged to help students understand the capabilities and limitations of AI by having students assess the results and processes of peers' AI inquiries.
Conversely, incorporating multimedia elements into assessments can significantly reduce students' motivation and ability to submit AI-generated content. Students can demonstrate their understanding of course concepts through videos, podcasts, or images, showcasing creativity and real-world application of concepts. Incorporating peer assessment reduces the individual burden on instructors. Instead of grading numerous multimedia submissions, educators can oversee the assessment process, ensuring fairness and consistency. Read this one-pager for innovative assignments that can motivate students to create original content.
By adding a peer assessment step, instructors can leverage a variety of assignment types to build the essential soft skills employers demand most. Backed by over a decade of peer learning research, Peerceptiv is the solution for peer assessment, team member evaluation, and live presentation peer reviews. Contact our team to get started.