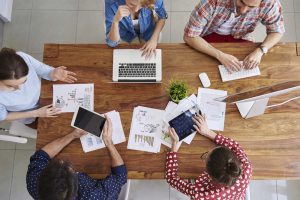 At Peerceptiv, all of our team members are powered by a passion for critical thinking. We are looking for individuals with a desire to help educators and organizations prepare learners with skills they need for career success. If you are interested in becoming part of a growing Ed Tech company focused on improving learning outcomes for students in all stages of their academic journey, we would like to get to know you.
---
Current Open Positions:
Software Engineer
Peerceptiv, a leader in SaaS collaborative learning technologies, is looking for a Pittsburgh-based Software Engineer who wishes to have a real impact in the lives of instructors and students.
This is an opportunity to work with a small, closely-knit team to participate in backend systems development, including needs analysis, coding, technical support, responding to customer inquiries, QA/QC, and server deployment, reporting directly to the CTO. Developers aren't siloed in repetitive technical activities at Peerceptiv; they are exposed every day to an exceptional breadth of development activity and have excellent autonomy in their work.  
We're seeking a motivated employee who wants real influence in the development of the technology and its strategic direction. You'll not only see the direct impact your contributions have in the finished work product, but also be a key player in a fast-growing, early stage company.
The Peerceptiv team collaborates using tools like Zoom, Slack and Jira, with the work taking place remotely and an occasional coordination meeting at the Pittsburgh office.
Peerceptiv is ideally looking for a candidate with this background:
a B.S. in Software Programming, Computer Science or Computer Engineering

2 years work experience in Java development

a background in Spring, SQL (MySQL), and AWS infrastructure or similar equivalents

excellent communication and interpersonal skills
 Compensation is competitive and includes stock option equity participation, with excellent health benefits.
Please reach out to us at info@peerceptiv.com with your resume, cover letter letting us know what you are looking for, and preferably a link to your Github repository.
 Equal Employment Opportunity:  Peerceptiv is an equal opportunity employer. We will extend equal opportunity to all individuals without regard to race, religion, color, sex, pregnancy, childbirth or related medical conditions, sexual orientation, gender identity, national origin, disability, age, genetic information, marital status, veteran status, or any other status protected under applicable federal, state, or local laws.
---