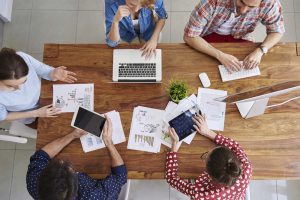 At Peerceptiv, all of our team members are powered by a passion for critical thinking. We are looking for individuals with a desire to help educators and organizations prepare learners with skills they need for career success. If you are interested in becoming part of a growing Ed Tech company focused on improving learning outcomes for students in all stages of their academic journey, we would like to get to know you.
---
Current Open Positions:
DIRECTOR OF BUSINESS DEVELOPMENT
The ideal candidate is one who wants real influence in the development of the company's strategic direction and growth. You'll have exceptional authority and autonomy over your work and be a key player in a fast-growing, early stage company.
Responsibilities
As the Business Development Director, you will be responsible for prospecting, qualifying, and closing new business for a wide range of nonprofit and for-profit opportunities in Higher Ed, K-12 and the workplace. 
This position will report to the COO and will perform or oversee marketing and sales activities at all stages of the sales funnel. This includes strategic planning, the sales website, social media management, MQL generation, web conference demos, personal meetings where applicable, and other responsibilities to build market share and Peerceptiv's identity as a leader in peer learning. 
You'll develop and maintain productive relationships with players in learning and workforce development, including editors, investors, and others in a position to influence company success.  You'll work with representatives in the education press to drive awareness of the benefits of peer learning and Peerceptiv's solution.
You will represent Peerceptiv at online and in-person conferences, including presenting and/or exhibiting at selected events. Travel is required but is not expected to be more than 5-15% of your time.
You will work closely with team members in operations, technical development, technical support, and other Peerceptiv departments to foster a positive and productive workplace.
Required Background & Skills
3+ years of sales experience selling SaaS learning solutions.

BA/BS preferred or equivalent work experience with demonstrated proficiency. A technical background is a plus.

Experience proposing, presenting, and discussing solutions with C-level and other executive level decision-makers.

Expertise in managing CRM systems and other tools that improve business development productivity.

A strong understanding of the KPIs and metrics that measure company growth, and the ability to use this data to drive company success.

Demonstrable knowledge of budgeting and forecasting.

Proven success of maintaining great internal and external relationships.
Compensation is competitive and includes stock option equity participation, with excellent health benefits.
---
FULL STACK DEVELOPER
This is an opportunity to work with a small, closely-knit team to participate in total scope systems development, including needs analysis, prototyping & design, coding, QA/QC, and web deployment. Developers aren't siloed in repetitive activities at Peerceptiv, and have exceptional authority and autonomy over their work.
We're seeking a motivated employee who wants real influence in the development of the technology and its strategic direction. You'll not only see the direct impact your contributions have in the finished work product, but also be a key player in a fast-growing, early stage company.
The Peerceptiv team collaborates using tools like Zoom, Slack and Jira, with the work taking place both at Peerceptiv's office in Pittsburgh and remotely.
The ideal candidate?…
a B.S. in Software Programming, Computer Science or Computer Engineering
2 to 4 years experience in full stack development
experience with at least one modern front end framework such as Angular or React
a background in Java, Spring, SQL (MySQL), and AWS infrastructure or similar equivalents
excellent communication and interpersonal skills
based in Pittsburgh
Compensation is competitive and includes stock option equity participation, with excellent health benefits.
Please reply to info@peerceptiv.com with resume, cover letter, and preferably a link to your Github repository.