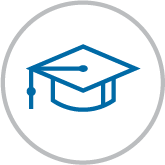 Peerceptiv creates a genuinely student-centered and processed-based classroom. Students engage with each others' work products and drive each other to improve.
With double-blind peer review, instructors can offer a wide range of writing, presentation, video upload, and other assessments in any classroom context. These higher-order learning tasks build the critical thinking, writing, and interpersonal skills employers demand most in the workplace.
Peerceptiv enables true peer-to-peer learning, while offering professors the flexibility to participate in assessment any way they wish. Faculty can collaborate with students throughout the review process or participate selectively, especially in high enrollment courses.
No matter the degree of professor participation in the assessment, Peerceptiv's grading algorithms are research-validated and allow an almost infinite number of course configurations and grade scale adjustments.
Monitor student progress through a wide range of instructor analytics, and confirm learning objectives are met in each of the element of an assignment. Peerceptiv's data also allows faculty to identify students in need of early intervention and improve assignment and rubric design over time.
Peerceptiv is configurable with a wide range of Learning Management Systems, allowing for a seamless learning experience for professors and students integrated within your school's existing technology.