Texas A&M Instructors Awarded for Student-Centered Learning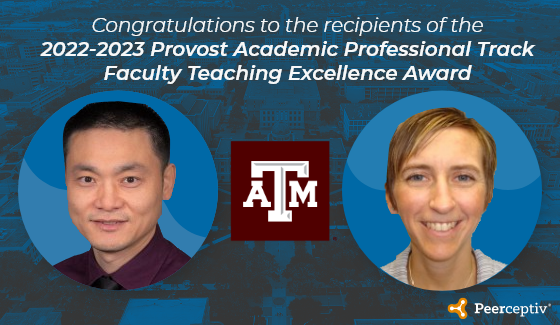 Congratulations to Texas A&M instructors Kati Stoddard and Jiling Liu on being selected for the 2022-2023 Provost Academic Professional Track Faculty Teaching Excellence Award. This award encourages, recognizes, and rewards Texas A&M faculty who provide students with meaningful learning experiences, embrace effective teaching approaches, and value student-centered learning.
Dr. Kati Stoddard uses peer assessment in her Introduction to Bioenvironmental Sciences course to inspire students to consider peers' and their own worldviews on the environment. Throughout the course, students discuss personal opinion on key environmental ethical issues using terminology and concepts discussed in lectures. Peer assessment engages students with each others worldviews, developing critical thinking and communication skills, while automating grading for 200 essays.
Dr. Jiling Liu has leveraged peer assessment in multiple kinesiology courses to motivate students through peer feedback. In one assignment, students have to create an infographic explaining why it's important that elementary schools keep recess. In another assignment, students create a health advocacy PowerPoint. Using peer assessment enables students to share their unique perspective, while practicing analytical thinking skills.
Congratulations to both instructors! Peerceptiv is proud to support innovative instructors at universities around the globe.