Peerceptiv® Releases Team Member Evaluation System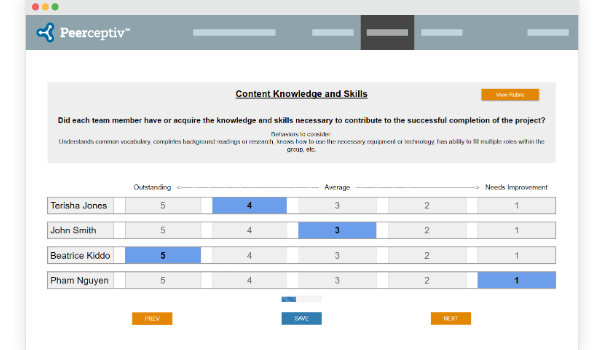 PITTSBURGH (PRWEB) SEPTEMBER 05, 2018
Peerceptiv® announced today the release of its cloud-based Team Member Evaluation system, using peer feedback to improve teamwork and collaboration skills in a wide range of academic and organizational settings. Members of a group can now provide anonymous assessment of each team member's contribution to optimize group performance.
"Team Member Evaluation is just one of a set of collaboration tools we'll be introducing to build on the work we're doing in peer assessment," said Mark Limbach, CEO of Peerceptiv. "Whether we're talking about students or adult learners, people learn better when working together. Peers are engaged directly in the learning process with one another, and there's less burden on the instructor."
The Peerceptiv peer assessment platform promotes learning through writing and discussion, and scales the development of higher-order thinking skills. Peerceptiv uses research-validated machine learning to analyze learner-reviewing behaviors to generate better, more accurate assessment. Peers can collaborate in assessment of individual assignments or group projects. Team Member Evaluation can be used as the final step in a Peerceptiv group assignment or on its own as a separate assignment type.
"Team member contributions will be analyzed using both quantitative ratings and qualitative feedback," said Jonathan Olshock, Director of Academic Engagement and Partnerships at Peerceptiv. "Curated rubrics are included to evaluate Professionalism, Content Knowledge, Work Ethic, and Communication, but instructors and managers may edit these categories to adapt the evaluation for any requirement."
About Peerceptiv: Peerceptiv is a leader in using machine learning to generate better collaborative learning outcomes. Based on more than a decade of research from the University of Pittsburgh, its peer assessment platform has been used by more than 125 colleges and universities, as well as dozens of K-12 schools, to support educators in improving students' writing and critical thinking skills. Peerceptiv scales naturally no matter how many learners there are, what the subject is, in the classroom or online.
For more information about Peerceptiv, please contact info@18.191.212.205.