Peerceptiv in the news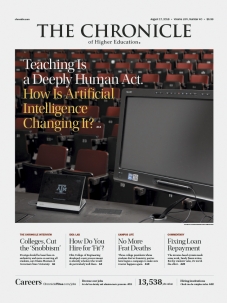 'How Artificial Intelligence is Changing Education', The Chronicle of Higher Education., August 12, 2018 (excerpt)
"[Professor Craig Coates at Texas A&M] wanted to reorient the course toward writing and discussion, convinced that the method would not only reduce cheating but also be a more engaging way to learn. But with 500 students — 200 in person and 300 online — grading would be a challenge. He experimented with one assignment, and it took days for him and three teaching assistants to complete the grading. "It was obviously going to be impossible," he said, to do it by hand.
Peer review was an option, but he and his TAs needed help sorting, assigning, and evaluating submissions. That led him to try a tool that uses algorithms and analytics. The switch was a success: Students enjoyed writing about current research, including keeping an insect blog and debating topics in entomology. The response, Coates says, has been "overwhelmingly positive."
The tool Coates uses, called Peerceptiv, works by evaluating the reviewer, not the writing itself, says Chris Schunn, a professor of psychology, learning sciences and policy, and intelligent systems at the University of Pittsburgh and the principal investigator behind the program. It helps instructors by anonymizing and distributing student work, allowing each writing assignment to be reviewed by several classmates. Then it monitors and graphs student feedback, including feedback on the reviewers."
You can read the whole article here.